The Sons Music Celebration
Majestic Theater • 2849 Gretna Rd. • Branson , MO 65616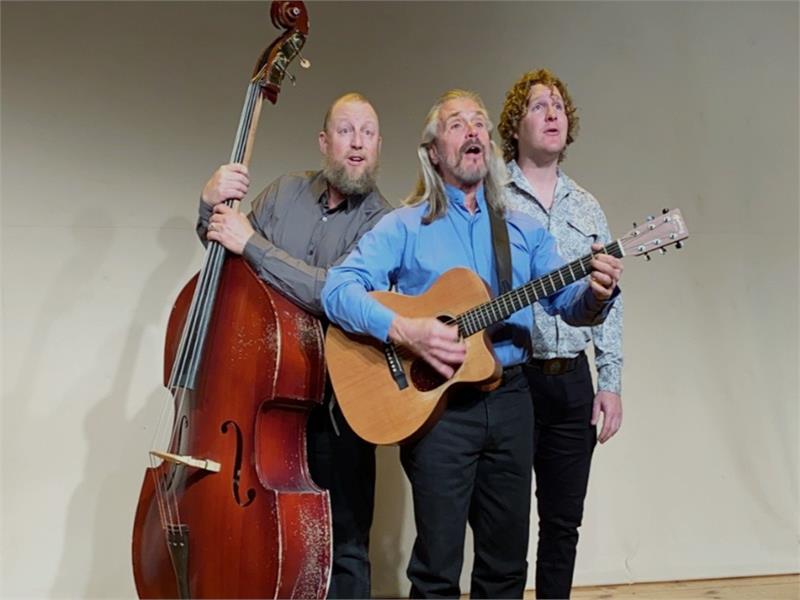 Buy Tickets
No reviews
Questions? Need Help?
1-800-808-8045
Open Everyday
9am-6pm (Central Time)
A Dynamic three part harmony celebrating the music you love
The Sons were "born" in August of 2005 by Silver Dollar City to sing cowboy music for the very first Salute to the Great American Cowboy. They set us up on a little 8 x 12-foot stage outside their Red/Gold Pavilion entertaining guests as they entered and exited the building. We had seating for about 35 people but soon had 150-200 people sitting or standing around listening to our cowboy harmonies. We even were the opening act for Michael Martin Murphy down in the Silver Dollar City's Echo Hollow Amphitheater. There was a reason The Sons of the Silver Dollar (our original name) group was formed. The first members were all part of Silver Dollar City's Dickens Christmas Carol cast and needed something to do for that fall until the show resumed in November. We were all doing something on park but were not performing together. Our fall cowboy shows were so successful that "the powers that be" asked us to return the following spring and sing bluegrass music during the Bluegrass and Bar-B-Que festival the following May. Since then, we have been singing in every festival beginning in May through October. Whether it's bluegrass, variety or gospel, we fill the theaters with toe-tapping good times.
We refer to our vocal arrangement as tenor, lead and baritone/base. However, we have arranged most of our songs utilizing a floating lead vocalization. The tight three-part harmonies are what makes the blend of The Sons so unique. Besides utilizing a floating lead, we use unison periodically to achieve a very tight sound. Over the years our new members have brought vocal talent that has only increased that wonderful blend. We refer to it as "the cush."
Ticket options will be available after selecting your date & time.
Customer Reviews
There are no reviews yet, be the first!
Other Products of Interest